Happy New Year!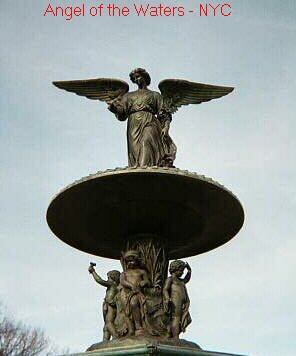 In This Issue Health in the News and More....

1

Folk Medicine

2

General News

3

Newsflashes from Townsend Letter October 2008

4

Scientific Studies

5

Book Corner -- Bhagavad Gita -- Translation and Commentary by Paramahansa Yogananda
Folk Medicine:
Mosquito Bites: a reader reports that he found relief from itch by applying a few drops of lime juice topically
General News:
The Journal of Orthomolecular Medicine announced recently that all of its issues, dating back from 1967 through 2002, are now available on line: http://orthomolecular.org/library/jom/index.shtml For your information the content of the journal has never been indexed in MEDLINE, although it routinely indexes Time, Newsweek, Reader's Digest, and so on.
Beginning in March 2009, University of Connecticut Health Center is offering programs and courses in Ayurvedic Healthcare, including: Ayurvedic Clinical Assesment Program, Ayurvedic Spiritual and Mental Health Program, Ayurvedic Preventative and Nutritional Health. For more registration please contact Dr. Amala Guha 860.561.4857 or guha@worldnet.att.net For course details visit http://www.ayurvedahealth.org http://casc.uchc.edu/

News Flashes From Townsend Letter August/September 2008
Extract of broccoli may protect against bladder cancer.
Immunomodulatory effect of maitake extract confirmed by Sloan Kettering.
Breast cancer survival linked to vitamin D.
Research shows that Remifemin/black cohosh (a proprietary product) lowers the risk of breast cancer by as much as 60%.
Environmental carcinogens may act to accelerate the growth of cells in which a mutation has already taken place, rather than be the cause of the mutation.
Radiation, WiFi and Cancer are linked by findings of over 200 peer-reviewed published papers; those living near cell phone towers were identified as at risk
A new study shows link between breast cancer and environmental light in the blue spectrum; inhibition of pineal gland nighttime secretion of melatonin implicated.
Modified citrus pectin can help prevent metastases and perhaps inhibit tumor growth in prostate and other cancers.
Heat therapy (thermotherapy) shows promise as treatment for cancer.
Wheat grass juice prevents chemotherapy side effects.
Vitamin C therapy may be preventive and treatment of urinary tract infection (during pregnancy, etc.)
Lyme Disease continues to get associated with autism.
Cancer modeling is widely associated with the "Mutational Theory of Cancer"--which holds that genes are corrupted by mutations and which alter the coding process for proteins; challenged by another model: "The Disruption Model" which posits that broken links in the double helix lead to aberrations in structure and function has gained some support from evidence that shows two extracts--Rauwolfia vomitoria, Pao pereira--inhibit cancer development by preventing such breaking apart of the double helix.
Researchers found that in women with breast cancer physical activity or walking three to five hours per week at a moderate pace helps to strongly decrease the relative risks of dying by almost 50%, especially in those with hormone sensitive forms (estrogen-positive).
The Warburg Phenomenon--a mitochondrial respiration explanation for the development of cancer--gathers momentum and points to new directions in evolutionary biology and cancer therapy.
Poly-MVA ((minerals, vitamins, and amino acids), a proprietary blend including palladium, alpha-lipoic acid, thiamine, riboflavin, and N-acetylcysteine, gains attention as a useful cancer treatment modality.
A topical cream, called Curaderm, is marketed in Australia for the treatment of squamous cell carcinomas, basal cell carcinomas, and solar keratoses; in a non-controlled clinical trial of 138 histologically confirmed subjects, there was total remission in all cases.
Scientific Studies:
Adaptation in human zinc absorption as influenced by dietary zinc and bioavailability1–4
Janet R Hunt, Jeannemarie M Beiseigel, and LuAnn K Johnson--Am J Clin Nutr 2008;87:1336–45. Printed in USA. © 2008 American Society for Nutrition
"In conclusion, absorptive efficiency is inversely related to the amount of ingested zinc, and, if the diet is low in phytic acid, absorption is up-regulated in response to extended low zinc intakes. Daily zinc and phytate intakes are major predictors of zinc absorption, which can be quantitatively predicted with multivariate models based on saturable transport kinetics, such as that proposed by Miller et al (11). We found the IZiNCG model (10) to be less useful. The model of Miller et al (11), with coefficients modified by using the data of the present study, suggests that 1344 HUNT ET AL diets with a phytate:zinc 12 do not provide an amount of absorbed zinc that meets the mean physiologic requirement for absorbed zinc estimated by the Food and Nutrition Board (9)."
Determination of the Antioxidant Capacity of Culinary Herbs Subjected to Various Cooking and Storage Processes Using the ABTS*+ Radical Cation Assay
Magali Chohan & Gary Forster-Wilkins & Elizabeth I. Opara
Plant Foods Hum Nutr (2008) 63:47–52 DOI 10.1007/s11130-007-0068-2 Published online: 26 January 2008 # Springer Science + Business Media, LLC 2007

Abstract Culinary herbs have the potential to be a significant source of antioxidants in the diet. However, many culinary herbs are cooked or undergo some other form of processing before they are consumed as part of a meal and such factors may affect their significance as a source of dietary antioxidants. Thus, the impact of cooking (simmering, microwaving, stewing, stir frying and grilling) and storage (vinegar maceration, cold maceration and freezing) on the antioxidant capacity of common culinary herbs was investigated. Extracts of cinnamon, cloves, fennel, ginger, lavender, parsley, rose, rosemary, sage and thyme were prepared pre and post cooking or storage and their antioxidant capacities determined using the Trolox equivalent antioxidant capacity assay (TEAC). Simmering, soup making and stewing significantly increased antioxidant capacity, whilst grilling and stir frying decreased it. Both freezing herbs at −20 °C and cold maceration had preservative effects on antioxidant capacity. Herbs in cold vinegar macerations for 1 week showed a decrease in antioxidant capacity compared to the control extracts. These results indicate that the potential of culinary herbs to be significant contributors to dietary antioxidant intake is significantly affected by both cooking and storage.
Comparison of Antioxidant Potency of Commonly Consumed Polyphenol-Rich Beverages in the United States
NAVINDRA P. SEERAM,† MICHAEL AVIRAM,§ YANJUN ZHANG,† SUSANNE M. HENNING,† LYDIA FENG,† MARK DREHER,# AND DAVID HEBER*,† Center for Human Nutrition, David Geffen School of Medicine, University of California, Los Angeles, California 90095; Lipid Research Laboratory, Technion Faculty of Medicine, Rambam Medical Center, Haifa, Israel; and POM Wonderful, LLC, Los Angeles, California 90064--J. Agric. Food Chem. XXXX, xxx, 000 A

Abstract A number of different beverage products claim to have antioxidant potency due to their perceived high content of polyphenols. Basic and applied research indicates that pomegranate juice (PJ), produced from the Wonderful variety of Punica granatum fruits, has strong antioxidant activity and related health benefits. Although consumers are familiar with the concept of free radicals and antioxidants, they are often misled by claims of superior antioxidant activity of different beverages, which are usually based only on testing of a limited spectrum of antioxidant activities. There is no available direct comparison of PJ's antioxidant activity to those of other widely available polyphenolrich beverage products using a comprehensive variety of antioxidant tests. The present study applied (1) four tests of antioxidant potency [Trolox equivalent antioxidant capacity (TEAC), total oxygen radical absorbance capacity (ORAC), free radical scavenging capacity by 2,2-diphenyl-1-picrylhydrazyl (DPPH), and ferric reducing antioxidant power (FRAP)]; (2) a test of antioxidant functionality, that is, inhibition of low-density lipoprotein (LDL) oxidation by peroxides and malondialdehyde methods; and (3) evaluation of the total polyphenol content [by gallic acid equivalents (GAEs)] of polyphenol-rich beverages in the marketplace. The beverages included several different brands as follows: apple juice (3), açaí juice (3), black cherry juice (3), blueberry juice (3), cranberry juice (3), Concord grape juice (3), orange juice (3), red wines (3), iced tea beverages (10) [black tea (3), green tea (4), white tea (3), and a major PJ available in the U.S. market. An overall antioxidant potency composite index was calculated by assigning each test equal weight. PJ had the greatest antioxidant potency composite index among the beverages tested and was at least 20% greater than any of the other beverages tested. Antioxidant potency, ability to inhibit LDL oxidation, and total polyphenol content were consistent in classifying the antioxidant capacity of the polyphenol-rich beverages in the following order: PJ > red wine > Concord grape juice > blueberry juice > black cherry juice, açaí juice, cranberry juice > orange juice, iced tea beverages, apple juice. Although in vitro antioxidant potency does not prove in vivo biological activity, there is also consistent clinical evidence of antioxidant potency for the most potent beverages including both PJ and red wine.
Effect of different cooking methods on the antioxidant activity of some vegetables from Pakistan
Bushra Sultana,1 Farooq Anwar1* & Shahid Iqbal2 1 Department of Chemistry, University of Agriculture, Faisalabad 38040, Pakistan 2 Department of Chemistry, University of Sargodha, Sargodha 40100, Pakistan International Journal of Food Science and Technology 2008, 43, 560–567
doi:10.1111/j.1365-2621.2006.01504.x 2007
Summary The effects of different cooking methods (boiling, frying and microwave cooking) on the antioxidant activity of some selected vegetables (peas, carrot, spinach, cabbage, cauliflower, yellow turnip and white turnip) were assessed by measuring the total phenolic contents (TPC), reducing power and percentage inhibition in linoleic acid system. TPC (gallic acid equivalents g/100 g of dry weight) and reducing power of the methanolic extracts of raw-, microwaved-, boiled- and fried vegetables ranged 0.333–2.97, 0.52–2.68, 0.48–2.08, 1.00–2.02 and 0.391–2.24, 0.822–1.10, 0.547–1.16, 0.910–4.07, respectively. The level of inhibition of peroxidation ranged 71.4–89.0, 66.4–87.3, 73.2–89.2 and 77.4–91.3%, respectively. Antioxidant activity of the vegetables examined was appreciably affected because of varying cooking treatments. TPC of vegetables, generally, decreased by boiling, frying and microwave cooking. There was a significant (P < 0.05) increase in reducing power as a result of frying. However, boiling and microwave cooking did not affect reducing power. Inhibition of peroxidation increased by boiling and frying, whereas, in contrast it was decreased by microwave cooking. The results of the present investigation showed that all the cooking methods affected the antioxidant properties of the vegetables; however, microwave treatment exhibited more deleterious effects when compared with those of other treatments. Thus an appropriate method might be sought for the processing of such vegetables to retain their antioxidant components at maximum level.
Antioxidant Activity of Wheat Sprouts Extract In Vitro: Inhibition of DNA Oxidative Damage
G. FALCIONI, D. FEDELI, L. TIANO, I. CALZUOLA, L. MANCINELLI, V. MARSILI, AND G. GIANFRANCESCHI 2918 JOURNAL OF FOOD SCIENCE—Vol. 67, Nr. 8, 2002: Food Chemistry and Toxicology

ABSTRACT: Wheat sprouts contain a remarkable level of various antioxidants. A fraction containing high amounts of powerful antioxidant glycoside molecules has been isolated. In a dose-dependent manner, this fraction reduces the lucigenin-amplified chemiluminescence produced by the superoxide anion generated from the xanthine/xanthine oxidase system, thus indicating a superoxide-scavenging activity. A protective effect of this wheat sprouts fraction on the oxidative damage of pBR322 plasmid DNA induced by Fenton reaction (Fe2+/H2O2) was subsequently demonstrated. Moreover, the results reported here show that the amount of antioxidant compound strongly increases during the germination phase, while scantly present in the wheat germ, and virtually absent in the young wheat plant.

The induction of human superoxide dismutase and catalase in vivo: A fundamentally new approach to antioxidant therapy
Sally K. Nelson a,b, Swapan K. Bose a, Gary K. Grunwald c, Paul Myhill d, Joe M. McCord a,b,d,*
a Webb-Waring Institute for Cancer, Aging and Antioxidant Research, University of Colorado Denver Health Sciences Center, Denver, CO 80262, USA
b Department of Medicine, University of Colorado Denver Health Sciences Center, Denver, CO 80262, USA
c Department of Preventive Medicine and Biometrics, University of Colorado Denver Health Sciences Center, Denver, CO 80262, USA
d Lifeline Therapeutics, Denver, CO, USA , Free Radical Biology & Medicine 40 (2006) 341 – 347

Abstract: A composition consisting of extracts of five widely studied medicinal plants (Protandim) was administered to healthy human subjects ranging
in age from 20 to 78 years. Individual ingredients were selected on the basis of published findings of induction of superoxide dismutase (SOD)
and/or catalase in rodents in vivo, combined with evidence of decreasing lipid peroxidation. Each ingredient was present at a dosage sufficiently
low to avoid any accompanying unwanted pharmacological effects. Blood was analyzed before supplementation and after 30 and 120 days of
supplementation (675 mg/day). Erythrocytes were assayed for SOD and catalase, and plasma was assayed for lipid peroxidation products as
thiobarbituric acid-reacting substances (TBARS), as well as uric acid, C-reactive protein, and cholesterol (total, LDL, and HDL). Before
supplementation, TBARS showed a strong age-dependent increase. After 30 days of supplementation, TBARS declined by an average of 40%
( p = 0.0001) and the age-dependent increase was eliminated. By 120 days, erythrocyte SOD increased by 30% ( p < 0.01) and catalase by
54% ( p < 0.002). We conclude that modest induction of the catalytic antioxidants SOD and catalase may be a much more effective approach
than supplementation with antioxidants (such as vitamins C and E) that can, at best, stoichiometrically scavenge a very small fraction of total
oxidant production.
D 2005 Elsevier Inc. All rights reserved.
Book Corner: Bhagavad Gita God Talks with Arjuna Translation and Commentary by Paramahansa Yogananda
There are many somewhat similar works on this spiritual treasure but few in English and even fewer on the complete 18 chapters and 700 verses extracted from the 100,000- verse Mahabharata. Expert reviewers have gone to some length to praise this work for several reasons: It is a tour de force considering the fact that it encompasses philosophy, psychology, religion, linguistics, history, and science. It advances a novel hypothesis; viz. the whole work is an allegory for the internal dialog of the spiritual aspirant who is challenged by sensory pleasures and the promise of greater spiritual pleasure found in samadhi. It is among the first of its kind available in English.
Although the work is the first-hand accomplishment of Yogananda, it was edited and published posthumously in 1995 by hand-chosen followers. When in meditation Yogananda intuited his transition to be coming soon (a few short years) he set about earnestly finishing the task of completing the project--as least to the point where followers could do the editing and publishing on their own.
In the introduction he gives insight into the nature of the method employed in his exegesis. His teacher, Swami Shri Yukteswar, forbad him "to read with mere theoretical interest any stanza of the Bhagavad Gita (or the aphorisms of Patanjali, India's greatest exponent of Yoga). Master made me meditate on the scriptural truths until I became one with them; then he would discuss them with me......:(H)e told me to put myself in rapport with God as manifested in Krishna, Arjuna, and Vyasa when the message of the Gita was revealed through them."
"Master also taught me the specific symbology in just the first few verses of Chapter 1 of the Gita and a few related aphorisms of Patanjali." ..."This Bhagavad Gita that I offer to the world, God Talks With Arjuna, is a spiritual commentary of the communion that takes place between the omnipresent Spirit (symbolized by Krishna) and the soul of the ideal devotee (represented by Arjuna)." ..."As with most scriptures--which are meant to be a source of inspiration to society, to materialists and moralists, and to people seeking God and spiritual enlightenment--the Bhagavad Gita has a threefold reading: material, astral, and spiritual, applicable to man on all levels of his being in a physical body, mind, and soul."...
"We hear of saintly ascetics, or prophets in the woods or secluded haunts, who were men of renunciation only, but Sri Krishna was one of the greatest exemplars of divinity, because he lived and manifested himself as a Christ and at the same time performed the duties of a noble king. His life demonstrates the ideal not of renunciation of action--which is a conflicting doctrine for man circumscribed by a world whose lie breath is activity--but rather the renunciation of earth-binding desires for the fruits of action."....
"Krishna's life demonstrates his philosophy that it is not necessary to flee the responsibilities of material life. The problem can be solved by bringing God here where He has placed us. No matter what our environment may be, into the mind where God-communion reigns, Heaven must come."...
"Now for the symbolism. As will be seen in the Gita commentary that follows, the genealogical descent of the Kurus and Pandus from Shantanu parallels in analogy the step-by-step descent of the universe and man from Spirit into matter. The Gita dialogue concerns itself with the process by which that descent may be reversed, enabling man to reascend from the limited consciousness of himself as a moral being to the immortal consciousness of his true Self, the soul, one with the infinite Spirit.:"
"The genealogy is diagrammed in the chart on page xxxvii, along with the spiritual significance of the various characters as was handed down from Lahiri Mahasaya. These esoteric meanings are not arbitrary. In explaining the inner meaning of words and names, the primary key is to hunt for it in the original Sanskrit root. Terrible mistakes are made in definitions of Sanskrit terms if there is no intuitive ability to arrive at the correct root, and then to decipher the correct meaning from that root according to its usage at the time of the origin of the word. When the basis is correctly established, one may then also draw meaning from the various sources relative to the common meaning of words and the specific way they were used to form a cogent connective thought."...
Now the setting: Briefly, Shantanu, the transcendental para-brahman, and Ganga / Saryavati constitute Purusha and Prakriti from the Sankhya scheme and give rise to Bhishma (8 psychological children as governing intelligences and ahamkara and to Vyasa, Chitrangada, and Vichitravirya). These give rise to Dhritarashtra, the blind sense mind, and to Pandu, the pure discriminating intelligence. From the former arise Duryodhana and Yuyutsu and the 100 sense tendencies along with desire to give psychological battle. From Pandu arise Yudhisthira, Bhima, Arjuna, Nakula, and Sahadeva, and the Draupadi. Thus the two opposing sides of 1) pure intelligence and 2) sense-based activity are fixed; and the field of interaction is the body and mind of the devotee--kurukshetra and dharmakshetra.
Those readers interested in Vedic or yoga psychology will enjoy reading the commentary as it is here that the theory of mind is revealed. Yogananda gives a good description of the mental and physical health implications of this theory of mind. He brings modern science into the picture along the way when these data and findings help illuminate his point, which helps endear this work to modern Western readers. Further, he takes pains, it seems, to include an integration of Western Christian theology with the Vedic pantheism. His grasp of etymology (nirukta) is simply remarkable as it is this knowledge that brings this work to it metaphysical conclusion. This work is a must read.