Dhanvantari Ayurveda Center Michael Dick, Ayurvedic Practitioner, Leesburg, Florida e-mail: md@ayurveda-florida.com
Volume V Issue 4 September 2008
Health and Science in the News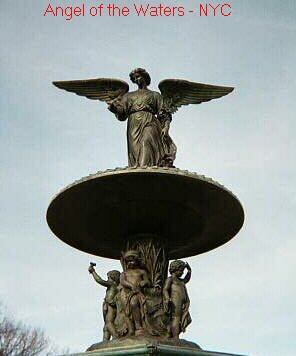 In This Issue Health in the News and More....

1

Folk Medicine

2

General News

3

Scientific Studies
Folk Medicine (People's Pharmacy)
It was reported in the NEJM, 2/1/07, that oils of lavender and tea tree and products that contain them may cause breast development in young males. The oils are estrogenic and counteract male hormones. Disuse reverses this effect.
Shredded coconut is constipating and controls diarrhea of IBS, etc.
Contact with cold metal (keys, butter knife, etc) at the back of the neck stems nosebleeds.
Reminder about licorice--it induces increased blood pressure by promoting potassium loss.
Milk of magnesia applied topically HS may help treatment of cystic nodular acne.
Dry skin (aka: atopic dermatitis) may respond to probiotics, hemp seed oil, Pycnogenol, or oolong tea.
Anecdotal reports of the varied benefits re: managing pain and inflammation via cod liver oil continue to come in--ADD, arthritis, depression, plantar fasciitis, dementia, and heart disease are some conditions being talked about.
Wasp sting--try baking soda and vinegar topically.
Urinary flow impairment from benign prostatic hypertrophy may find relief with use of stinging nettle. Some use it effectively for control of allergy symptoms (side effects are reported so be careful).
Magnesium supplementation is being used (often with calcium) for relief of sleep disorders, leg cramps, chronic fatigue, and fibromyalgia.
Duct tape on warts does the trick for some. You may need 6 weeks for full effect.
Beet juice in the amount of 2 cups daily has been shown to reduce BP by 10 pts.
General News:
NAMA is meeting next month in Chicago, October 16-19th. For more info see its website: www.ayurveda-nama.org
Dhanvantari Ayurveda Center will be closed from Oct. 5th to Nov. 8th, traveling to India.
Scientific Studies:
Why Are Some Species More Commonly Afflicted By Arthritis Than Others? A Comparative Study Of Spondyloarthropathy In Primates And Carnivores
C. L. NUNN,* B. ROTHSCHILD & J. L. GITTLEMAN§** *Max Planck Institute for Evolutionary Anthropology, Leipzig, Germany Department of Integrative Biology, University of California, Berkeley, CA, USA Northeastern Ohio Universities College of Medicine and Carnegie Museum, Arthritis Center of Northeast Ohio, Youngstown, OH, USA Department of Biology, University of Virginia, Charlottesville, VA, USA
Wild mammals suffer from a wide variety of infectious diseases (Samuel et al., 2001; Williams & Barker, 2001). In nonhuman primates, for example, more than 400 infectious organisms have been documented in free-ranging animals (Nunn & Altizer, 2005). Abstract :
Spondyloarthropathy is a painful arthritic affliction of humans that also occurs in wild mammals. Important questions remain concerning the underlying causes of spondyloarthropathy in mammals, particularly regarding whether it is infectious in origin or driven by genetic predisposition and environmental stressors. Moreover, spondyloarthropathy has negative effects on host fitness, leading to potential conservation concerns if it impacts threatened species. Using a comparative data set on the prevalence of joint disease in 34 primate species and 100 carnivore species, we tested predictions involving the epidemiological correlates of spondyloarthropathy in wild mammals. Analyses revealed that 5.6% of primates and 3.6% of carnivores exhibited signs of spondyloarthropathy, with maximum incidence as high as 22% in great apes and 27% in bears. We tested whether prevalence of spondyloarthropathy increases with population density and group size, greater contact with soil, a slower host life history, increased ranging, dietary factors and body mass. We found general support for an effect of body mass, with larger bodied primates and carnivores exhibiting a higher prevalence of spondyloarthropathy. In addition, more threatened species experienced higher rates of spondyloarthropathy, with this association influenced by body mass and phylogeny. The effect of body mass could reflect that larger animals are exposed to more pathogens through greater consumption of resources, or that joints of larger bodied mammals experience greater biomechanical stresses, resulting in inflammation and activation of local joint infections.
Bacteria Subsisting on Antibiotics
Gautam Dantas,1* Morten O. A. Sommer,1,2* Rantimi D. Oluwasegun,1 George M. Church1†

Antibiotics are a crucial line of defense against bacterial infections. Nevertheless, several antibiotics are natural products of microorganisms that have as yet poorly appreciated ecological roles in the wider environment. We isolated hundreds of soil bacteria with the capacity to grow on antibiotics as a sole carbon source. Of 18 antibiotics tested, representing eight major classes of natural and synthetic origin, 13 to 17 supported the growth of clonal bacteria from each of 11 diverse soils. Bacteria subsisting on antibiotics are surprisingly phylogenetically diverse, and many are closely related to human pathogens. Furthermore, each antibiotic-consuming isolate was resistant to multiple antibiotics at clinically relevant concentrations. This phenomenon suggests that this unappreciated reservoir of antibiotic-resistance determinants can contribute to the increasing levels of multiple antibiotic resistance in pathogenic bacteria.
Contamination of Bottled Waters with Antimony Leaching from Polyethylene Terephthalate (PET) Increases upon Storage
W I L L I A M S H O T Y K * A N D M I C H A E L K R A C H L E R Institute of Environmental Geochemistry, University of Heidelberg, INF 236, D-69120 Heidelberg, Germany
Antimony concentrations were determined in 132 brands of bottled water from 28 countries. Two of the brands were at or above the maximum allowable Sb concentration for drinking water in Japan (2 íg/L). Elevated concentrations of Sb in bottled waters are due mainly to the Sb2O3 used as the catalyst in the manufacture of polyethylene terephthalate (PET(E)). The leaching of Sb from PET(E) bottles shows variable reactivity. In 14 brands of bottled water from Canada, Sb concentrations increased on average 19% during 6 months storage at room temperature, but 48 brands of water from 11 European countries increased on average 90% under identical conditions. A mineral water from France in PET(E), purchased in Germany, yielded 725 ng/L when first tested, but 1510 ng/L when it was stored for 6 months at room temperature; the same brand of water, purchased in Hong Kong, yielded 1990 ng/L Sb. Pristine groundwater containing 1.7 ( 0.4 ng/L Sb (n ) 6) yielded 26.6 ( 2.3 ng/L Sb (n ) 3) after storage in PET- (E) bottles from Canada for 6 months versus 281 ( 38 ng/L Sb (n ) 3) in PET(E) bottles from Germany. Tap water bottled commercially in PET(E) in December 2005 contained 450 ( 56 ng/L Sb (n ) 3) versus 70.3 ( 0.3 ng/L Sb (n ) 3) when sampled from a household faucet in the same village (Bammental, Germany), and 25.7 ( 1.5 ng/L Sb (n ) 3) from a local artesian flow.
Emblica Officinalis And Hepatocarcinogenesis: A Chemopreventive Study In Wistar Rats
Sarwat Sultana∗, Salahuddin Ahmed, Tamanna Jahangir (Journal of Ethnopharmacology)
Section of Chemoprevention and Nutrition Toxicology, Department of Medical Elementology and Toxicology, Jamia Hamdard (Hamdard University), Hamdard Nagar, New Delhi 110062, India
Introduction: Emblica officinalis L. commonly known as gooseberry, Phyllanthus emblica, Emblica, Indian gooseberry, amla (amalaki) is used in Indian system of medicine for the treatment of liver ailments.
Aim and Objectives: In the present study, we report that it ameliorates the carcinogenic response as it reverses the histopathological changes and reduces the number of -GT-positive foci induced by Solt Farber protocol in the liver of Wistar rats. Materials and Methods: Tumors were induced by initiation with diethylnitrosoamine (DEN) (200 mg/kg body wt., i.p.) followed by promotion with 2-acetylaminoflourine (2- AF) (0.02%, w/w in diet) for continuous 6 weeks and the animals were subjected to partial hepatectomy on day 21 of initiation. Results: Pretreatment with defattedmethanolic fruit extract (100 and 200 mg/kg b.w.) of Emblica officinalis showed significant partial recovery of pathological manifestations as compared to DEN and 2-AAF-treated group animals (p < 0.001) and suppressed the tumor forming potential of 2-AAF (p < 0.05) at both the doses.
Conclusion: Emblica officinalis has the potential to suppress carcinogen-induced response in rat liver.
© 2008 Elsevier Ireland Ltd. All rights reserved.
Terminalia Arjuna Wight & Arn.—A Useful Drug For Cardiovascular Disorders
Shridhar Dwivedi
Preventive Cardiology Group, University College of Medical Sciences, University of Delhi, Delhi 110095, India Journal of Ethnopharmacology 114 (2007) 114–129

Abstract
Ancient Indian physicians used the powdered tree bark of Terminalia arjuna Wight & Arn. (arjuna) for alleviating "hritshool" (angina) and other cardiovascular conditions. Its stem bark possesses glycosides, large quantities of flavonoids, tannins and minerals. Flavonoids have been detected to exert antioxidant, anti-inflammatory and lipid lowering effects while glycosides are cardiotonic, thus making Terminalia arjuna unique amongst currently used medicinal plants. In this review an attempt has been made to discuss various aspects of its ethnomedical, pharmacognostical, phytochemical, pharmacological and clinical relevance to cardiovascular conditions. Experimental studies have revealed its bark exerting significant inotropic and hypotensive effect, increasing coronary artery flow and protecting myocardium against ischemic damage. It has also been detected to have mild diuretic, antithrombotic, prostaglandin E2 enhancing and hypolipidaemic activity. There is ample clinical evidence of its beneficial effect in coronary artery disease alone and along with statin. However, toxicological studies in experimental animals are lacking. Considering its anti-ischemic activity and its potential to correct dyslipidemia, reduce left ventricular mass and increase left ventricular ejection fraction, it is essential to examine the molecular mechanism of its action and its core constituents. Proposition to administer Terminalia arjuna along with statins deserves to be explored in depth for defining its place in the over all management and prevention of coronary artery disease.
© 2007 Elsevier Ireland Ltd. All rights reserved.
Influence Of Natural And Controlled Fermentations On A-Galactosides, Antinutrients And Protein Digestibility Of Beans (Phaseolus Vulgaris L.)
Emire Admassu Shimelis1* & Sudip Kumar Rakshit2
1 Food Engineering Program, Department of Chemical Engineering, Faculty of Technology, Addis Ababa University, Addis Ababa, PO Box 385, Ethiopia
2 Food Engineering and Bioprocess Technology Program, Asian Institute of Technology, PO Box 4 Klong Luang, Pathumthani 12120, Bangkok, Thailand
International Journal of Food Science and Technology 2008, 43, 658–665
Summary The influence of natural fermentation (NF) and controlled fermentation (CF) in diminishing the content of antinutrients, a-galactosides and increments in in vitro protein digestibility was investigated. The dry bean (Phaseolus vulgaris) flour was the substrate used in this research study. A decrease in raffinose oligosaccharide, antinutritional components and pH was observed in both types of fermentation. The natural lactic fermentation of ground beans produced significant increase (P < 0.05) in protein digestibility. For all varieties of beans, raffinose concentration reduced significantly to an undetectable level after 96 h of NF. CF did not have any significant effect on the reduction of the a-galactosides content of the flours during fermentation. NF is an inexpensive method by which consumers can obtain good- quality protein. Both types of fermentation diminish antinutrients and improve the nutritional value of the bean flour, and indicate the potential to use bean flour as an ingredient for fabricated foods.
Copper Deficiency And Neurological Disorders In Man And Animals
Paolo Zattaa,⁎, Adrian Frankb aCNR-Institute for Biomedical Technologies, "Metalloproteins" Unit, Department of Biology, University of Padova, 35100 Padova, Italy bDepartment of Clinical Chemistry, Faculty of Veterinary Medicine and Animal Sciences, Swedish University of Agricultural Sciences,
P.O. Box 7038, SE-750 07, Uppsala, Sweden
Copper metabolism in the brain is far from being completely understood and further studies are needed on the role of copper in the CNS, starting with careful measurements, metal and biological speciation of metabolites on the molecular level, and combining copper concentration in different brain areas with morphological as well as biochemical alteration after Cu-depletion/deficiency. So far a pathological role for copper has been clearly demonstrated in some human genetic diseases (e.g., Menkes' and Wilson's diseases), but other pathological features connected with metal depletion are under investigation in several laboratories. The metabolic interaction between copper and other metal ions in some neurological disorders is also discussed in this contribution.
© 2006 Elsevier B.V. All rights reserved.
Inhibition Of Lipoxygenases And Cyclooxygenase-2 Enzymes By Extracts Isolated From Bacopa Monniera (L.)
Wettst V. Viji, A. Helen∗ Department of Biochemistry, University of Kerala, Kariavattom, Thiruvananthapuram, Kerala 695 581, India Journal of Ethnopharmacology
Aim of the study: Bacopa monniera Linn is described in the Ayurvedic Materia Medica (brahmi), as a therapeutically useful herb for the treatment of inflammation. In the current study, we investigated the anti-inflammatory activity of methanolic extract of Bacopa monniera (BME). For some experiments EtOAc and bacoside fractions were prepared from BME. The effect of these extracts in modulating keymediators of inflammation was evaluated. Materials and methods: Carrageenan-induced rat paw edema, rat mononuclear cells and human whole blood assay were employed as in vivo and in vitro models.
Results: In carrageenan-induced rat paw edema, BME brought about 82% edema inhibition at a dose of 100 mg/kg i.p. when compared to indomethacin (INDO) (3 mg/kg) that showed 70% edema inhibition. BME also significantly inhibited 5-lipoxygenase (5-LOX), 15-LOX and cyclooxygenase-2 (COX-2) activities in rat monocytes in vivo. Among the fractions tested in vitro, EtOAc fraction possessed significant 1,1- diphenyl-2-picrylhydrazyl radical scavenging activity with IC50 value of 30 g/ml compared to butylated hydroxyl toluene (IC50 =13 g/ml). This fraction also exerted significant hydroxyl radical scavenging activity with IC50 value of 25 g/ml in comparison with quercetin (IC50 =5 g/ml). Inhibitory effects of EtOAc and bacoside fractions on LOX and COX activities in Ca-A23187 stimulated rat mononuclear cells were also assessed. 5-LOX IC50 values were 25 g/ml for EtOAc, 68 g/ml for bacosides and 2 g/ml for nordihydroguaiaretic acid (NDGA) where as COX-2 IC50 values were 1.32 g/ml for EtOAc, 1.19 g/ml for bacoside fraction and 0.23 g/ml for indomethacin. EtOAc and bacoside fractions also brought about significant decrease in TNF- release ex vivo. Conclusion: Bacopa monniera possesses anti-inflammatory activity through inhibition of COX and LOX and down regulation of TNF- .
© 2008 Elsevier Ireland Ltd. All rights reserved
Content Of Some Antinutritional Factors In Bean Cultivars Frequently Consumed In Brazil
Deusde´ lia T. Almeida,1 Ralf Greiner,2* Dalva M.N. Furtunado,1 Ivaldo N.S. Trigueiro1 & Maria da Purificac¸a˜o N. Arau´ jo1
1 Escola de Nutric¸a˜ o, Universidade Federal da Bahia, R. Arau´ jo Pinho 32, Canela, CEP-40110-150 Salvador, BA, Brazil
2 Federal Research Centre for Nutrition and Food, Centre for Molecular Biology, Haid-und-Neu-Strasse 9, D-76131 Karlsruhe, Germany
In summary, the high protein content of the V. unguiculata and V. faba cultivars under investigation make them extremely valuable for the poor population of the northeast of Brazil, which cannot afford protein foods such as meat and fish. The traditional way of consuming beans in Brazil is together with rice. Beans are in general low in sulphur-containing amino acids and rich in lysine, whereas rice is an excellent source of sulphur-containing amino acids. Together, these foods create a high-value protein source with all amino acids well represented. The bean cultivars under investigation contained intermediate levels of antinutrients. Vicia faba var. Preta was demonstrated to contain the highest levels of all antinutrients analysed, whereas V. unguiculata var. Canapu contained the lowest levels of most of the antinutrients analysed (trypsin inhibitor activity, haemagglutinating activity, phytate). With the exception of phytate, their concentrations are markedly reduced by the traditional household procedures to prepare beans. The major concern about the presence of phytate in the human diet is its negative effect on mineral uptake. Especially, zinc and iron deficiencies were reported as a consequence of high phytate intakes (D'Souza et al., 1987; Lo¨ nnerdal, 2000). The literature indicates that phytate:zinc, phytate · calcium:zinc and phytate:iron molar ratios of a diet may provide useful indexes of the bioavailability of dietary zinc and iron, respectively (Ellis et al., 1987; Lind et al., 2003). The suggested critical values for phytate:zinc, phytate · calcium:zinc and phytate:iron molar ratios in animal diets and retrospective calculation from human diets are >10, >200 and >0.143, respectively. According to the literature, calcium, zinc and iron content of V. faba seeds range from 14.25 to 25.70 mmol kg)1 DM, 1.02 to 2.06 mmol kg)1 DM and 0.77 to 2.26 mmol kg)1 DM, respectively (Kmiecik et al., 2000; USDA, 2001; Cabrera et al., 2003). The corresponding values for V. unguiculata were reported to be 27.42–59.88 mmol kg)1 DM, 0.52– 0.95 mmol kg)1 DM and 0.91–1.47 mmol kg)1 DM, respectively (USDA, 2001; Fasoyiro et al., 2006; Iqbal et al., 2006). The phytate:zinc, phytate · calcium:zinc and phytate:iron molar ratios of all bean cultivars used were close to or above the proposed critical level. Despite the higher antinutrient levels of V. faba cultivars, these cultivars should be of higher nutritional value to the Brazilian population, because in comparison to Vigna uniguiculata cultivars, V. faba cultivars showed a higher zinc and iron content as well as lower calcium levels. To reduce the risk for mineral deficiency in vulnerable groups, such as child- bearing women, strictly vegetarians, inhabitants of developing countries, especially fast-growing children, however, foods containing enhancer of mineral absorption have to be served together with beans and rice. Vitamin C for example has been shown to improve especially iron utilisation. So far, different strategies have been developed to combat mineral deficiencies. The most widely recognised strategies for reducing micronutrient malnutrition are supplementation with pharmaceutical preparations, food fortification, dietary diversification and disease reduction (Maberly et al., 1994). For various reasons, none has been very successful.
Note: This issue of antinutrients has been discussed in an earlier Newsletter--July 2006. As a concept it represents factors or actions from factors ingested that degrade the quantity and function of nutrients (think vitamins and minerals). This article refers to some of the modes of action for antinutrients. What comes to mind is the common suggestion / prescription among Ayurvedists for triphala supplementation. Its high level of vitamin C, as this article states, garners for it yet another value in health promotion and disease alleviation. -- Mike


---
Site Map (Table of Contents of Entire Ayurveda Website)
---
(C) Copyright 1994 - 2015 Michael Dick All Rights Reserved www.ayurveda-florida.com Dhanvantari Ayurveda Center / Ayurveda Education Programs