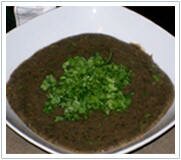 Indian name: Urad dal
Source: Partap Chauhan Jiva Newsletter
Ayurvedic Properties of Urad dal:
Quality: Unctuous and Heavy
Taste: Sweet
Potency: Warm
Post-digestive effect: Sweet
Medicinal Properties of Urad dal:
It is a very good aphrodisiac, increases reproductive fluid, gives strength to the body, increases lactation, and serves as an effective laxative. Most of the digested dal is converted into stool. So this dal is effective in purisha kshya, a state in which stool is not formed properly. It helps produce stools of good texture, volume, and weight that are soft, flexible and easy to pass.
Dosha Analysis:
It increases pitta and kapha dosha, while pacifies vata dosha. Since this dal is very difficult to digest, ginger, garlic and spices like asafetida are added to make it more digestible.
Ingredients:
One cup split urad dal (spilt black lentils, ivory in color, available in Indian groceries)

Four cups of water

A pinch of asafetida

A teaspoon of cumin seeds

Three cloves of garlic (chopped)

Half a teaspoonful of turmeric

A teaspoon of sea or rock salt (it may be according to taste)

Two teaspoons of peeled and chopped fresh ginger

A small green chili (optional) (excessive pittaja person should avoid it)

A teaspoon of mustard seeds

A teaspoon of powdered coriander powder

A medium sized onion (chopped well)

A teaspoon of ghee
Preparation:
Wash Urad dal well. Drain it with water and remove any unwanted foreign material and imperfect seeds if any.

Put dal, turmeric powder, sea or rock salt, and water in a pressure cooker (an airtight metal pot that uses steam under pressure at high temperature to cook food quickly).

Close the lid and boil for 10 to 15 minutes on moderate fire until dal becomes soft and turns golden, and before it becomes too dark.

Warm some ghee in a pan. Add some cumin seeds and mustard seeds for popping. Make sure these do not get black. Add a few onions and fry them till they turn golden brown.

Now add ginger, green chilies, garlic and tomatoes, and fry till tomatoes soften down.

Now add dry spices such as chili powder, coriander powder and fry the mixture again for a moment.

Add boiled dal and stir on medium flame. As soon as it starts boiling, remove from the gas.