Dhanvantari Lord of Ayurvedic Medicine and Surgery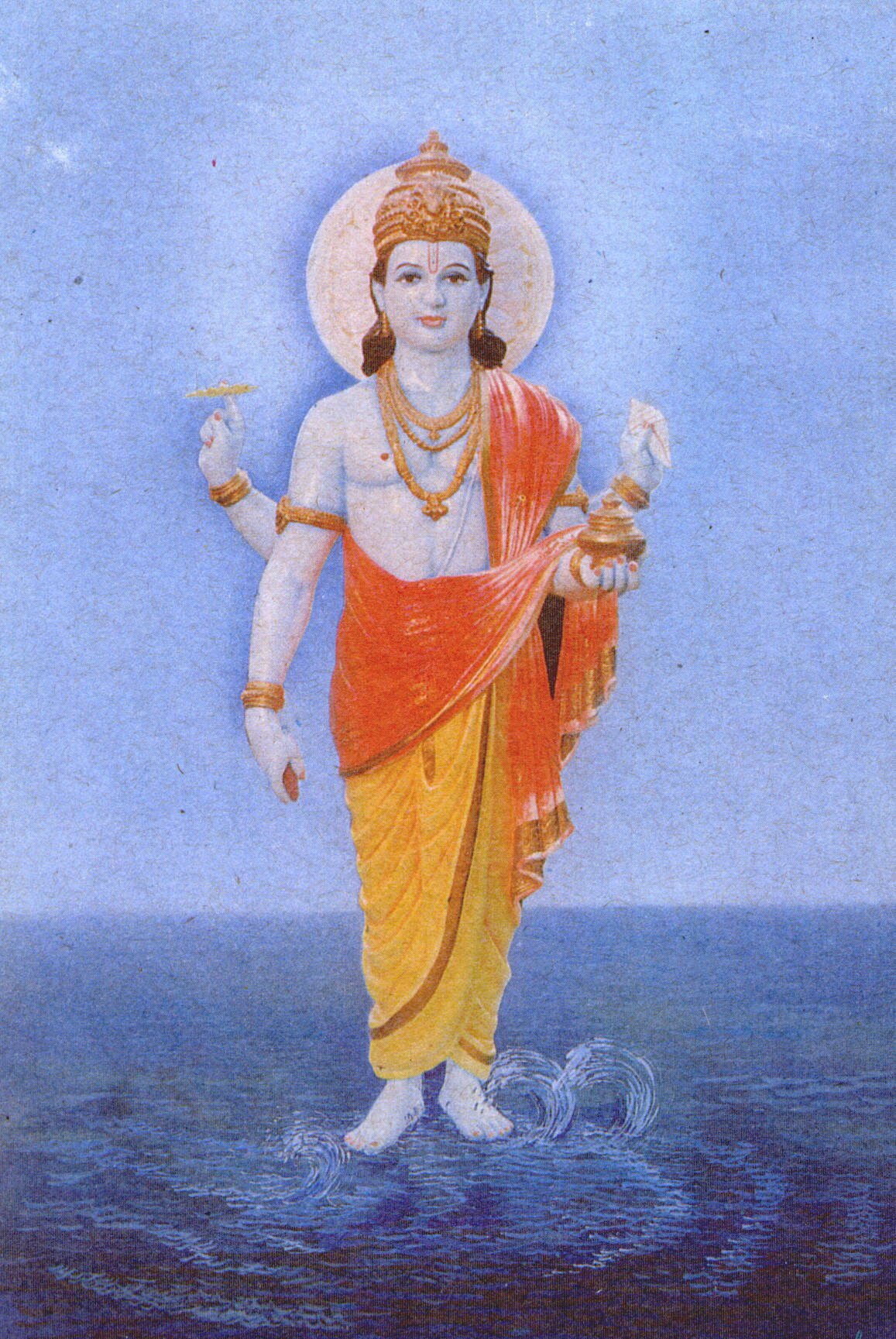 Lord Dhanvantari gave the knowledge of Ayurveda to Sushruta, the first Ayurvedic surgeon. Traditionally in his four hands are: a leech, a vessel of immortality gaining nectar, a conch shell, and a sphere of energy. Here the fourth hand contains an unknown item, perhaps the famous haritaki fruit. These items represent important Ayurvedic medicines. These herbs, etc. help us carry out our mission to bring holistic healing to all. Each symbolizes a different approach to treatment, cleansing, rejuvenation, spiritual etc. Ayurvedic nutrition and life-style are their primary expressions, however.
Aum shankham cakram jalaukam dadhad amrita ghatam caru dorbhis caturbhih
Sukshma svacchati hridyamshuka pari vilasan maulim ambhoja netra
kalambhodojjvalangam kati tata vilasac caru pitambaradhyam
vande dhanvantarim tam nikhila gad vana praudha davagni lilam (in devanagari)
Rig veda
(Translation): Salutations to Him, Lord Dhanvantari, who is holding with his four hands a conch shell, a disc (of energy), a leech, and a pot of immortal/celestial ambrosia. In whose heart shines a very subtle, clear, gentle, and pleasing blaze of light. This light also shines all around his head and lotus eyes. On the dark, blue/black water his body is luminous. His waist and thighs are wrapped in shining yellow cloth. Who, by His mere play, destroys all disease like a mighty forest fire.
The 'Festival Of Lights' Divali is celebrated for five days all over India. For Ayurvedic physicians, the festival is even more important because it includes Dhantrayodashi (Thirteenth day of month of Ashvin), on this day a grand puja of Lord Dhanvantari is performed.